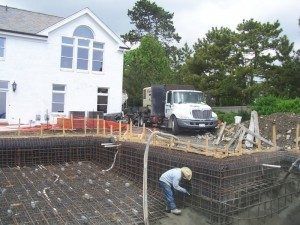 Working with Neave Pools to construct your luxury backyard escape is like engaging in an intricate dance — we connect with you during the design phase, lead you through the construction process and remain your trusted partner for future maintenance needs. The construction phase is the longest portion of your pool installation project and begins as soon as you are satisfied with the designs that have been drawn, as well as the timeline and budget.
Depending on the complexity of your project, your pool installation project can range between weeks and months in length. We pledge to keep you updated through timely communication so you always know where we are along the timeline. We also work to manage all of the moving parts of the project: construction professionals, regulatory requirements, inspections and any necessary changes.
Working with Leading Pool Construction Professionals
Neave Pools works with the best professionals in the pool construction industry. The APSP-certified building professionals, designers, engineers and laborers who contribute to a luxury pool construction project are well-educated, flawlessly trained and held to the highest possible standards. We oversee every single detail throughout the project to ensure the finished product exceeds your expectations.
Our company and professionals have obtained all the necessary licensing to work in your locale and participate in cutting-edge training and credentialing so Neave Pools can continue to lead the industry. We are also affiliated with organizations including the Association of Pool & Spa Professionals and the Northeast Pool & Spa Association.
Our Pool Construction Process
During your inground pool construction project, we follow a 10-step process to execute your design and create your luxury outdoor escape.
Create your pool project timeline, considering your personal needs as well as construction demands. This timeline includes both an anticipated start and completion date as well as milestones along the way.
Obtain permits and design approval from the municipal departments that govern your location. We also manage any necessary variances or design changes and communicate those with you.
Perform excavation and rough grading for the entire designed area, including the pool, patio and surrounding structures and landscaping.
Install plumbing and framing. For vinyl pool installations, this includes steel framing.
Install shell for gunite/shotcrete pools OR install liner and floor for vinyl pools.
Install masonry, tile and coping elements around the pool to blend with surrounding sun shelves, decks or structures.
Install filtration and pumping equipment, including pieces that provide chlorination or saltwater sanitization, chemical balancing, automation and cleaning systems.
Construct patio, plant landscaping and place fencing, irrigation and lighting elements. At this stage of the process, your entire backyard will come together. You may provide additional input and tweaks to fully realize your dream design.
Plaster pool and allow to cure, then begin filling with water. Depending on the size of your pool and available watering systems, this can be a lengthy process.
Undergo final inspections and establish chemical balances while running through a punch list that wraps up all outstanding details.
Trust Neave Pools for Your Luxury Pool Construction
From the best professionals to innovative designs to a tried-and-true swimming pool construction process, Neave Pools can help bring your backyard vision flawlessly to fruition. Call us today to schedule your first visit, so we can evaluate your property, understand your backyard goals and begin drawing up your project.
We're here to answer all your questions, help you translate pool plans from dreams to designs and turn your backyard into an incredible space that you and your loved ones can enjoy for many seasons to come.